HOME-ABOUT US/CONTACT US-COMPUTER/NETWORK SUPPORT-SALES-TRAINING/CERTS-ONLINE MARKETING-EMPLOYMENT
CompuNETS Computer and Network Support - Security Page
Welcome to the heart and soul of CompuNETS! After all, we literally stand for Computer and Network Support and Security! It's really impossible not to mix all those things together for any business in today's world. Computers and networks (including the Internet - the world's largest network!), allow a business to compete on the largest scale they can ever dream to have - but it's also a slippery slope that is laden with dangers from within and without!
That is why we must include "Security" when any type of business computer or network support is concerned. And "Security" doesn't just mean protection from viruses or hackers. No, "Security" takes on many personas, like good/regular backups, disaster recovery plans, intrusion detection/prevention, wireless security, good passwords that are changed periodically, social engineering prevention, safe web searching, secure email practices, and the list goes on and on and on!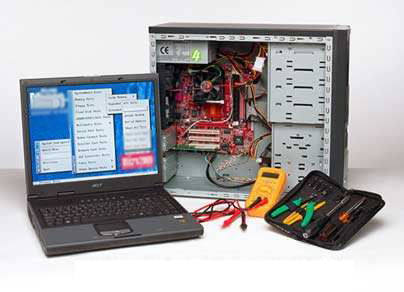 Thankfully, you can turn to the professionals to help you identify and address every aspect of tech security, as well as basic computer/network maintenance. And you couldn't have located a better suited partner to assist you with all of your tech concerns than CompuNETS!
---
CompuNETS Tech Support Rates:
Business rate = $85 for the first hour and $75 per hour thereafter per day (2 hour minimum).
Home rate = $55 for the first hour and $45 per hour thereafter per day (2 hour minimum).
Senior discounts are available. Please call me, Rick Strader, personally at 732-736-9777. Or, email me directly at RickStrader@Compunets.com. (2 hour minimum per service call).
---
Standard Business Computer/Network Service Packages:
1. A Complete backup of all vitally important computer data to an extra disk - which you should keep it offsite for just $150/backup!
2. A PC Cleaning & Malware Scan/Removal for up to 6 PC's for just $595! [Note: you can opt to have 3 PC's cleaned 2 times per year, or 2 PC's cleaned 3 times per year, which is ideal for maintaining a healthy computer!] Eeach PC after that is just $50/system per cleaning.
3. A Full Business Technology Security Audit for just $495!
4. A complete informational-type WEBSITE DESIGN and HOSTING for just $995! [hosting is included in first 3 months only. After that, it's $30/month]
5. A complete E-COMMERCE DESIGN ($5,000 + $300/month hosting!)
---
CompuNETS will also help you with any Microsoft-based Server 2000 through 2008 R2 administrative issues. We are very adept with virtually every aspect of Microsoft-based server technologies - including virtualization, Power Shell scripting, and Citrix integration.
So, if you want the best - at the best prices around then CompuNETS is your computer/network technology solutions company!
HOME-ABOUT US/CONTACT US-COMPUTER/NETWORK SUPPORT-SALES-TRAINING/CERTS-ONLINE MARKETING-EMPLOYMENT